The rear brake is incredibly important for Gymkhana. It is used heavily to regulate power to the rear wheel against the primary drive.
Using it under heavy power for long periods of time can result in it getting HOT!!! If it gets too hot the fluid can boil and braking is much harder.
Another problem is grabbing when hot, not the effect you want in the middle of a rotation!
So some tips on keeping it cool (thanks to Motogymkhana UK facebook group):
Use front brake to slow down and rear for control
Brake pads: Ceramic, Sintered Bronze, Kevlar Organic... ebay comparison
Change the standard line to a braided line.
If all else fails: Attach a PC heat sink to the callipers.
If the heat sink fails you could try beefing up the disk (see below)
Beefing Up the disk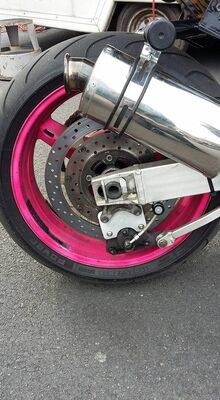 John Collister: Have done all of the above. Not got a problem with boiling, I find when it gets too hot it starts to grab and that's something you don't want in the middle of a rotation. One of our guys has bolted a large front disc on to the small rear and made a bracket to move the caliper out. I'm thinking of doing something similar because of the grabbing problem. My local engineering shop suggested it look for a disc from an older bike (older bikes tended to have bigger rear discs), look for one with the same number of holes as same pcd (hole spacing) but not having much success so far. If I can find one he reckons an adaptor plate to move the caliper is easy to make. He's just sent off my plates for anodizing. Made to fit yamaha blue spots to my Versys special. Once fronts are sorted gonna have a proper go at sorting the rear.